Dubrovnik is by far the most famous and popular coastal city to visit in Croatia. I have yet to go there, but I can assure all interested visitors that coastal Croatia has much more to offer than just one historic town. Indeed, practically all Croatian towns, villages, and islands have a unique history and cultural heritage. And with over 1,000 islands and coastal towns, there are boundless places to explore by the gorgeous Adriatic Sea. Moreover, there's a place for every kind of visitor. Whether you're a food connoisseur, shopaholic, history buff, water sports fanatic, wilderness wanderer, beach bum, or partier, Croatia's got you covered. The list of places I still hope to visit is endless, but I have slowly made my way to many Croatian coastal gems over the years. Below are just a few locations that have all equally captured my adventurous heart.
Pula
A perfect place for a trek through historic Roman masterpieces and trying out famed truffle dishes on the cheap.
Photo credit: Croatianholidayshr.com

Novalja (on the island Pag)
Famous for all-day partying on Zrće and a variety of gorgeous beaches with sand to stone shorelines.
Photo credit: Palmanovalja.com

Zadar
A cultural & historic mecca filled with museums, ancient churches & Roman ruins, and summer-long music and theater festivities.  
Photo credit: Santis-nekretnine.hr

Bol (on the island Brač)
Famous for the beautiful beach, Zlatni Rat (Golden Cape), that changes its shape due to the sea currents, and a prime spot for wind surfing.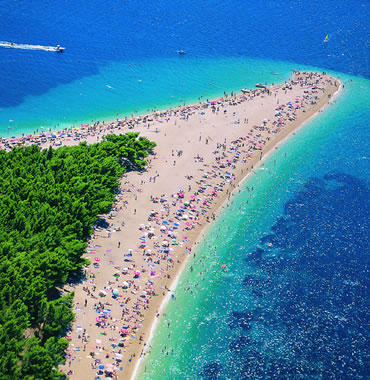 Photo credit: Bol-croatia.net

Split
The 2nd largest city in Croatia and an important sea port that houses an UNESCO World Heritage Site, Diocletian's Palace, and a mass of other well-preserved Roman ruins along with the famous Spilt Music Festival.
Photo credit: Atlas-croatia.com

More detailed posts on what to see, where to eat, and what to do in specific Croatian locales will come in the future, so stay tuned! In the mean time, check out Croatia's National Tourist Board website for other trip suggestions & lodging information.